Dropper posts allow us to adjust our saddle height with the push of a lever, helping to enhance comfort, efficiency, and most importantly, control while out on the trail. Many people would argue that dropper posts are one of the most important innovations in mountain bike technology, essentially transforming the way we ride.
The ability to adjust the height of your saddle on the fly ensures that it is always positioned perfectly for the terrain you are riding, and dropper posts have become a staple on nearly all new mountain bikes and are working their way onto gravel bikes these days as well. With their meteoric rise to becoming a standard part, we now have more great options to choose from than ever before.
If you're looking for a new dropper post for your bike, we can help! We rounded up nine of the top options available in 2023 to test and compare side by side. Over the course of several months, we put each model in this review through its paces while assessing important performance characteristics like the smoothness of travel, saddle clamps, installation, adjustability, weight, serviceability, and design. When possible, we also tested each post with its own brand's remote to see how they work together.
Our top recommendations are listed below, followed by the best of the rest which are also great options to be considered. To see the specs of all the models we tested at a glance, check out our comparison chart. If you need help deciding what you need or how to find a dropper post that fits you and your bike, you can refer to our detailed buying advice and FAQ section.
The Best Dropper Posts of 2023
Best Overall Dropper Post
Specs
MSRP

$350, $365, $380, depending on travel length (Remote Pro Lever $70)

Available Travel Lengths

125, 160, 200mm

Overall Lengths

373.2, 443.2, 523.2mm

Available Diameters

30.9, 31.6

Size Tested

31.6, 160mm travel

Measured Weight

Post: 514g (3.21g/mm travel), Lever: 47g
Pros
Short overall length and stack height

Self bleeding cartridge should promote reliability

Can order with travel spacers installed

Remote Pro lever is excellent

Easy saddle installation

Fully user serviceable

Lightweight
Cons
Initial stickiness, resolved with Slick Honey on the stanchion as advised by Wolf Tooth.

Higher price point
Best Budget Dropper Post
Specs
MSRP

$199.50 – $229.50 depending on travel length (V3 Lever $45)

Available Travel Lengths

90, 120, 150, 180, 210, 240mm

Overall Lengths

290, 360, 420, 480, 540, 610mm

Available Diameters

30.9, 31.6, 34.9 (also a 27.2mm option in 90 and 120mm lengths)

Size Tested

31.6, 150mm travel

Measured Weight

Post: 505g (3.37 g/mm travel), Lever: 42g
Pros
Short stack height and overall length

Most fit options available

Medium stroke lever with good return feel and reasonably light action

Great value

Relatively lightweight
Cons
Post drops very quickly – difficult to make precise adjustments to saddle height
Runer-Up Best Dropper Post
Specs
MSRP

$359, Performance Elite: $309 (1x lever $69)

Available Travel Lengths

100, 125, 150, 175, 200mm

Overall Lengths

336.6, 391.5, 446.3, 503, 558.7mm (includes actuator)

Available Diameters

30.9, 31.6

Size Tested

31.6, 150mm travel

Measured Weight

Post: 585g (3.9g/mm travel), Lever: 46g
Pros
Very smooth, intuitive performance on trail

Reasonable overall length and very low stack height

Super light actuation

Great seat clamp design

Basic but well performing lever
Cons
Not as easily serviceable and very little adjustability

Heavier than some

Pricey
Runner-Up Best Budget Dropper Post
Specs
MSRP

$199 – $209 depending on travel length (Loam Lever $74)

Available Travel Lengths

125, 150, 170, 200mm

Overall Lengths

385, 440, 480, 540mm

Available Diameters

30.9, 31.6, 34.9mm

Size Tested

31.6, 150mm travel

Measured Weight

Post: 529g (3.53 g/mm travel), Lever: 49g
Pros
Great performance at an affordable price

Easy tool free travel adjust

Basic but functional and ergonomic lever

Easy to make small adjustments to saddle height
Cons
Rubber pieces get dirty very easily
Smoothest Dropper Post
Specs
MSRP

$350 – $410 depending on travel length (Lever $70)

Available Travel Lengths

125, 160, 185, 213mm

Overall Lengths

397, 467, 517, 582mm (including actuator)

Available Diameters

30.9, 31.6 (Revive Max 34.9 and Revive 27.2 also available)

Size Tested

31.6, 160mm travel

Measured Weight

Post: 536g (3.35 g/mm travel), Lever: 45g
Pros
Incredibly Smooth

Very easy to make small adjustments precisely

Reset Valve is nice to have, particularly if you hang your bike upside down
Cons
Longer lever throw than my preference

Relatively long overall length/stack height

Expensive
Best High-End Dropper Post
Specs
MSRP

$861

Available Travel Lengths

100, 125, 150, 170mm

Overall Lengths

340, 390, 440, 480mm

Available Diameters

30.9, 31.6, 34.9mm (Reverb XPLR AXS comes in 27.2mm)

Size Tested

31.6, 150mm travel

Measured Weight

Post: 655g (4.37g/mm travel), Lever: 54g
Pros
Great lever ergonomics and easy actuation

Precision control

Super easy post and seat installation

Quick return speed

Electronic

No cable or hose
Cons
Very expensive

Heavier weight

Electronic – need to remember to charge battery

Higher stack height with large collar
Best Lightweight Dropper Post
Specs
MSRP

$320 (Lever $70)

Available Travel Lengths

80, 100, 125mm

Overall Lengths

400, 420, 445mm

Available Diameters

30.9, 31.6

Size Tested

31.6, 125mm

Measured Weight

Post: 451g (3.61 g/mm travel), Lever: 45g
Pros
Fast return speed

Smooth, controlled action

Quite light

"Tech climb" feature went unnoticed (in a good way)
Cons
Max travel of 125mm

Longer overall length and stack height

Weight is low, but weight per mm/travel is higher than other SL model tested
Best of the Rest
Specs
MSRP

$300 (Crankbrothers Highline Remote $60, not tested)

Available Travel Lengths

100, 125, 150, 170, 200mm

Overall Lengths

364, 414, 465, 504, 577mm

Available Diameters

30.9, 31.6mm (Highline XC Gravel available in 27.2mm)

Size Tested

31.6, 150mm travel

Measured Weight

Post: 577g (3.85 g/mm travel)
Pros
Very smooth travel

Easy to use pivoting bolt seat clamp

Easily user serviceable (everything but the cartridge) with very standard tools

Easy install
Cons
Slower, fixed compression and extension speed

Longer overall length and stack height

Second heaviest cable-actuated post tested
Specs
MSRP

$399 (Performance Elite: $329)

Available Travel Lengths

50, 70, 75, 100, 125, 150mm

Overall Lengths

350, 370, 355, 380, 430, 455, 480mm

Available Diameters

27.2, 30.9, 31.6

Size Tested

31.6, 150mm travel

Measured Weight

Post: 441g (2.94 g/mm travel), Lever 46g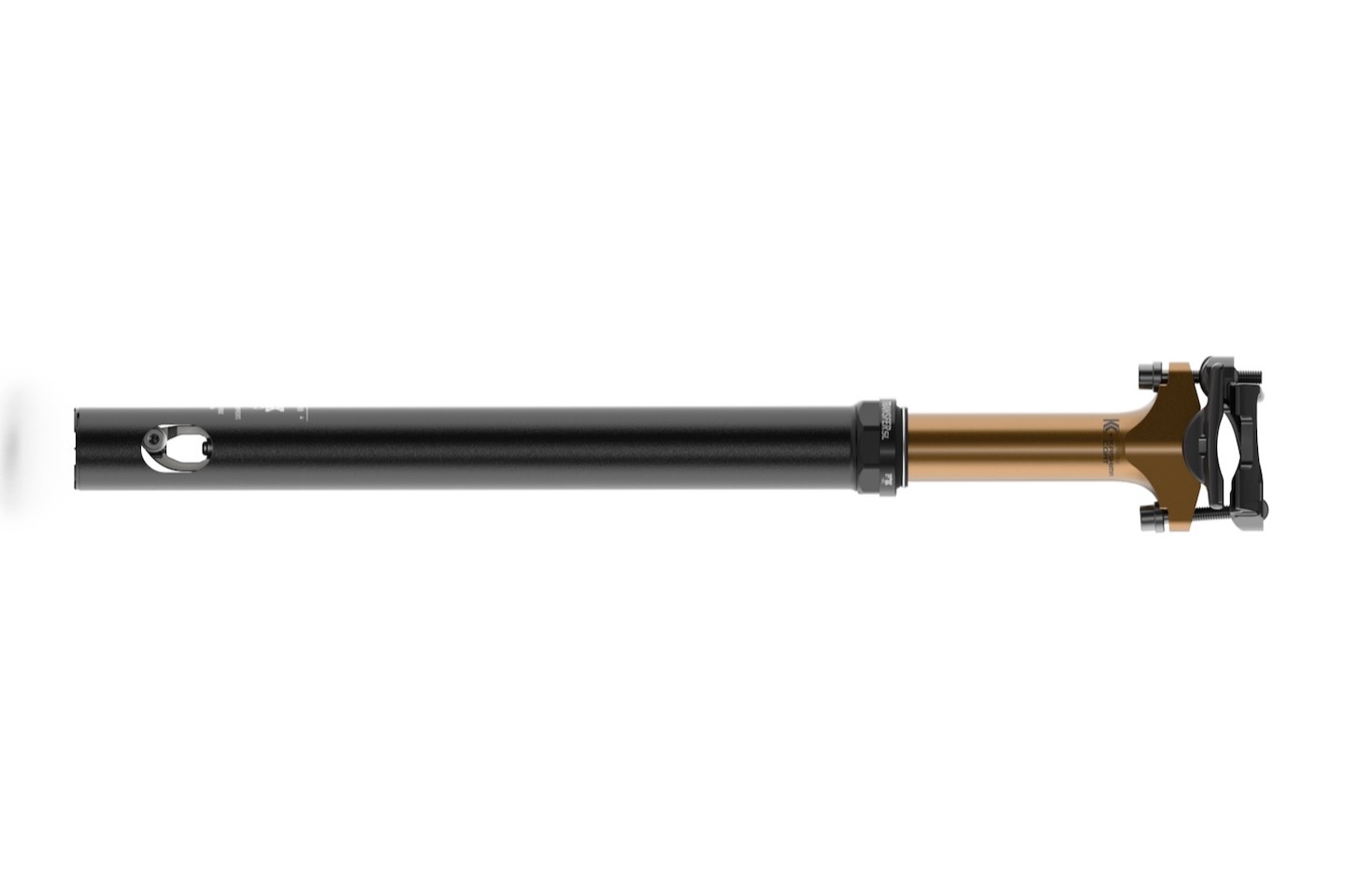 Pros
Lightest post tested

Wide range of shorter travel options for XC riders

Drop bar lever available

Very fast return speed

Extremely light action
Cons
Two positions – you'll love it or hate it

Less controllable than infinitely adjustable posts due to extremely light action

Longest overall length in the test
Dropper Post Comparison Table
| Dropper Post | MSRP | Available Lengths | Available Diameters | Size Tested | Measured Weight |
| --- | --- | --- | --- | --- | --- |
| Wolf Tooth Resolve | $350 – $380 | 125, 160, 200mm | 30.9, 31.6mm | 31.6 x 160mm | Post: 514g, Lever: 47g |
| OneUp Components V2 | $199.50 – $229.50 | 90, 120, 150, 180, 210, 240mm | 27.2, 30.9, 31.6, 34.9mm | 31.6 x 150mm | Post: 505g, Lever, 42g |
| Fox Transfer Factory | $359 | 100, 125, 150, 175, 200mm | 30.9, 31.6mm | 31.6 x 150mm | Post: 585g, Lever: 46g |
| PNW Components Loam | $199 – $209 | 125, 150, 170, 200mm | 30.9, 31.6, 34.9mm | 31.6 x 150mm | Post: 529g, Lever: 49g |
| Bike Yoke Revive 2.0 | $350 – $410 | 125, 160, 185, 213mm | 27.2, 30.9, 31.6, 34.9mm | 31.6 x 160mm | Post: 536g, Lever: 45g |
| RockShox Reverb AXS | $861 | 100, 125, 150, 170mm | 30.9, 31.6, 34.9mm | 31.6 x 150mm | Post: 655g, Lever: 54g |
| Bike Yoke Divine SL | $376 | 80, 100, 125mm | 30.9, 31.6mm | 31.6 x 125mm | Post 451g, Lever: 45g |
| Crankbrothers Highline 7 | $300 | 100, 125, 150, 170, 200mm | 30.9, 31.6mm | 31.6 x 150mm | Post: 577g |
| Fox Transfer SL | $399 | 50, 70, 75, 100, 125, 150mm | 27.2, 30.9, 31.6mm | 31.6 x 150mm | Post: 441g, Lever: 46g |
Why Should You Trust Bikerumor?
It's fair to say that the team at Bikerumor is obsessed with all things bike related. This is especially true of products like dropper posts that enhance our riding experience and performance out on the trail. While there were some reservations about adopting this new-fangled technology when they initially came out, you'll find droppers on virtually all of our mountain bikes and even some of our gravel bikes these days. And, we've tried a lot of them. Whether for product launches, individual reviews, or on test bikes, we've had the chance to try nearly every model on the market.
For the purposes of this buyer's guide, we rounded up nine of the best dropper posts available in 2023 to test and compare side-by-side. Review author, Paul Clauss, spent months testing these posts in a wide range of weather conditions on technical northern Vermont trails that require lots of raising and lower of the saddle. A mechanical engineer by trade and a skilled bike mechanic, Paul enjoys scrutinizing different designs, tinkering with adjustments, and is adept at differentiating subtle performance differences in the workshop and out on the trail. Each post was weighed and measured for comparison to manufacturers' specs and installed on either his Santa Cruz Bronson or Chromag Widangle hardtail for testing. Paul has an affinity for technical features and rock slabs, and fortunately, the terrain near his home in northern Vermont is an ideal testing ground for dropper posts with plenty of ups, downs, and rocky, rooty challenges that require frequent changes to saddle height.
In addition to testing dropper posts, Paul has also contributed to Bikerumor for our best mountain bike flat pedals review and is currently testing more products for upcoming mountain bike accessories and component buyers' guides.
Buying Advice: How to Choose a Dropper Post
There are numerous reasons to use a dropper post on your mountain bike, but it can be tricky to find exactly what you need. Here we'll break down some of the important considerations that may impact your purchase decision.
Why Ride With a Dropper Post?
Using a dropper post will allow you to raise and lower your seat with the touch of a handlebar-mounted lever. When your saddle is at the appropriate height for pedaling and climbing, it can get in the way when trying to move your body and bike while descending. But when your saddle height is set low for descending, it is not in the proper pedaling position.
Dropper posts allow you to adjust your saddle height on the fly while riding, ensuring you have the proper seat height for the terrain you encounter. With a dropper post, you will experience:
Improved maneuverability: A dropper post allows you to lower your seat when descending steep or technical terrain, creating more clearance between you and your saddle, making it easier to shift your body and maneuver the bike. This is particularly helpful for bike/body separation when cornering and when jumping.
Better efficiency: At full extension, your saddle should be in the ideal position for seated pedaling so you can always make the most of your pedaling effort.
More comfortable riding: A dropper post allows you to adjust your seat height based on the terrain, making for a more comfortable ride overall. Outside of lowering the post for descending, this can be important on technical climbs – sometimes having only 20mm or so of drop can help you put down the power and push up a difficult move.
How to Size a Dropper Post for You and Your Bike
When purchasing a new dropper post, the fit for you and your bike is your first priority. Not only does it need to fit your frame to be compatible, but you want it to suit your body size and needs as well.
Seat Tube Diameter
This is one of the easiest steps – just make sure you select a post that matches the seat tube diameter of your frame. Most modern mountain bikes have 30.9mm or 31.6mm seat tubes, and dropper post manufacturers often provide options for less standard options like 27.2mm (for gravel and some XC frames) or 34.9mm diameters. If you are unsure of your seat tube diameter, you can typically find it printed on the seat post that is currently on your bike, or you can look it up on the manufacturer's website. While you should be able to find a post that matches your seat tube diameter, you can sometimes purchase a smaller one and shim the seat tube in a pinch.
Dropper Travel Length
Dropper posts come in a range of travel lengths to suit varying needs, preferences, bodies, and bikes. For mountain bikes, they typically range between 100 and 200mm with some outliers on either end. For example, the OneUp Components V2 Dropper comes in the most size options, with 90, 120, 150, 180, 210, and 240mm travel lengths available. Not surprisingly, as post travel increases, so does the overall length of the post.
While many people try to fit the most drop possible on their bike to increase mobility, some riders may prefer a shorter drop length for various reasons. How much drop you want usually is a matter of personal preference, but also it is often a function of what will fit on your frame and work for your body size. Fortunately, some brands are doing their best to minimize the overall lengths and stack heights of their posts which makes it easier to fit a longer travel dropper, and some also provide the option to reduce travel with adjustments to make fitment much easier than it used to be. At the same time, many modern bikes are being designed with lower stand-over heights and shorter/straighter seat tubes that help make fitting longer travel droppers easier.
Determining If a Dropper Will Fit Your Frame
Most manufacturer's websites have a tool to help you appropriately size a post for your bike to maximize travel (and the OneUp website will even show you which competitor's posts will fit with their Dropper Post Length Selector). To use these tools, you'll take two measurements from your frame and consider a few post measurements:
X – your Measured Ride Height, from the top of your seat collar to the center of your seat rails (not the top of your saddle). For example, on the small Santa Cruz Bronson used for testing, this is 260mm.
Y – the maximum seat tube insertion length for your frame. On the small Bronson, this is 210mm.
With these numbers, use the tools available on most manufacturers' websites to determine the maximum travel for their post on your frame. To double-check if a dropper post will fit on your own, make sure that:
Your Measured Ride Height (X) is GREATER than the Stack Height (extended) of the post, measured from the bottom of the collar to the center of the seat rails of the seat at full extension.

On the test Bronson, the Measured Seat Height of 260mm is greater than the 150mm Travel PNW Loam post's Stack Height of 200mm. This means the post can be positioned at the preferred height, assuming the other two measurements below are true.

The Overall Length minus your Measured Ride Height (X) is LESS than the maximum seat tube insertion length for your frame (Y).

For the PNW Loam post at 150mm travel, the Overall Length is 440 mm. 440 – 260 = 180 mm, which is the length of the post I expect to be in the seat tube at full seat height. This is less than the measured seat tube insertion of 210mm, leaving 30mm of clearance at the bottom of my seat tube with the post at the measured seat height.

The Insertion Length (from #2) falls between the minimum and maximum insertion lengths of the post. The insertion length must be between the maximum/minimum insertion lengths for the post.

Minimum insertion of 90mm is less than 180mm (from #2, the expected insertion length with the post) which is less than 210mm (the maximum insertion depth). At the expected insertion on the Bronson frame, the insertion length falls between and maximum and minimum insertion lengths of the post.
Types of Dropper Posts
Most dropper posts available today use a cable to actuate an internal floating piston (IFP) to release a pressurized chamber, typically an adjustable air spring or a sealed hydraulic cartridge, to raise and lower the seat. While they all perform the same task of raising and lowering your seat on the fly, dropper posts came in a variety of different designs.
Adjustable vs Fixed Rate of Return
Many dropper posts have an adjustable rate of return. Typically, this involves an air spring, the pressure of which can be raised or lowered (within a recommended range) to speed up or slow down the rate at which the post compresses and extends. This gives the user greater control over their post and the ability to dial in its performance to meet their needs or preferences. The OneUp V2, Bike Yoke Revive 2.0 and Divine SL, Wolf Tooth Resolve, and the PNW Loam all feature adjustable air springs.
Some posts use sealed cartridges that have a fixed rate of compression and extension. These posts have a predetermined spring rate chosen by the manufacturer that usually aims to hit the happy middle ground of compression force/return speed. The Fox Transfer Factory and Crankbrothers Highline 7 are two examples of droppers that do not have adjustable air springs.
Infinitely Adjustable vs Fixed Interval Travel
The vast majority of dropper posts feature what is called infinitely adjustable travel, meaning they can be adjusted anywhere within the available travel range between full compression and full extension. While it is most common to ride with the post all the way up or all the way down, there are plenty of circumstances where dropping the post just a little bit is more ideal, and infinitely adjustable posts allow you to do so.
A few posts on the market have fixed interval travel, meaning they stop only at certain spots within their travel range. Typically, this style of post uses a simpler mechanical spring to control the travel. The only post we tested that adjusts at fixed intervals is the lightweight Fox Transfer SL, which stops in only two positions, fully compressed and fully extended.
Internal vs External Routing
Most modern mountain bikes are designed to be used with dropper posts and usually feature internal cable routing. Consequently, most droppers are also designed to be used with bikes that have internal cable routing, and the actuator where the cable connects is at the bottom of the post inside the frame. All of the droppers we tested are made for internal cable routing, other than the RockShox Reverb AXS which is wireless.
Many older bike frames and some gravel bikes do not have ports for internal cable routing. Thankfully, there are some externally routed droppers on the market, though they are less common. PNW components makes several models of externally routed droppers and you can often find similar options from Brand-X and PRO if you look around.
Actuation Styles
Cable-Actuated
The majority of modern dropper posts are cable-actuated, meaning that a cable connects between the remote lever and an actuator at the bottom of the post. When you press the remote lever, it pulls on the cable, which in turn actuates the post and allows it to move up or down. Cables are relatively easy to deal with and inexpensive to replace.
Hydraulically Actuated
This style of actuation is much less common than cable-actuated posts, but it works in a similar way using hydraulic fluid. The RockShox Reverb (not AXS) is the only post on the market that uses this system, and it works fairly well. The main drawback is that it is more difficult to install and remove your post given the presence of hydraulic fluid in the hose and remote lever, and it can be quite messy. Older models were also quite sensitive to cold temperatures.
Wireless/Electric
Given the rapid pace of technological development, it comes as little surprise that more and more products are electronic. Wireless or electronic posts forego the cable or hose altogether and instead use a small control unit on the handlebar that pairs via Bluetooth to a small motor on the post to raise and lower it. The RockShox Reverb AXS is the only electric post to really gain a foothold in the market thus far, although there are other brands working on bringing more options to market.
Dropper Features
Travel Reduction
Some posts allow you to decrease the maximum post travel, ensuring you can get the maximum drop available for your bike. For example, on the bike used for testing with a stack height of 260mm and maximum seat tube insertion of 210mm, the OneUp size calculator shows the maximum drop for my setup as 170mm, achieved by reducing the travel of their 180mm post by 10mm.
The PNW Loam Dropper uses a tool-free system to decrease the maximum travel by up to -25mm (in 5 mm increments) with a built-in nylon shim. The OneUp V2 Dropper uses a similar system but limits travel adjustment to 10 or 20mm and uses pins and guide slots rather than the nylon shim. The Bike Yoke Revive 2.0 also allows up to 20mm of travel adjustment but the set of four 5mm shims need to be purchased separately and the post must be removed from the bike for installation. Similarly, the Wolf Tooth Resolve can have maximum travel reduced and they will install spacers for you when you order the post, or you can purchase travel reduction shims after the fact and install them yourself or bring it to a shop to have it done for you.
Reset Valves
All hydraulic dropper posts can experience air ingestion into the inner tubes over time, which can result in a saggy or spongy feel when sitting on the saddle. To combat this without requiring a full rebuild of the post, the Bike Yoke Revive 2.0 uses a reset valve and the RockShox Reverb AXS uses the "Vent Valve" to reset the hydraulic circuit. While Bike Yoke only expects Revive users to use the reset valve once or twice a year, this is a nice feature to ensure consistent performance of the post without needing to pull it out of your frame.
Other posts, like the Wolf Tooth Resolve and the Bike Yoke Divine SL have "self-bleeding" cartridges designed to purge any air from the system every time the post is fully dropped.
Saddle Clamp
The saddle clamp, at the seatpost head, is where your saddle rails attach to the seatpost. Good saddle clamps are quiet, stay at the appropriate torque, and make saddle installation/removal easy. Most of the posts in this test used a standard two-bolt head design to adjust saddle angle and fore/aft position. A few models have clamp designs that help make the installation and removal process slightly easier. Both the Fox Transfer and the Crankbrothers Highline 7 have hardware that swivels while the OneUp V2 dropper has slotted plates. Though we don't typically install/remove our saddles frequently, these seemingly trivial design features are really quite helpful when testing dropper posts back to back.
Remote Levers
Every dropper post uses a remote to actuate the travel up and down. While many posts used to come with a lever, most posts are sold without one these days, meaning you can usually choose whatever remote you like. Most levers for cable-actuated dropper posts (that clamp the free cable end at the lever) are compatible with any post, allowing you to choose the lever that works best with your ergonomics and cockpit setup. The exception to this rule is the RockShox Reverb AXS, which comes with its own electronic control unit. For most of these posts in this review, we tested them with their brand's respective remote levers to get a feel for how they work together.
The advent and proliferation of 1x drivetrains freed up some space on the left side of the handlebar where the front derailleur shifter used to be, so the majority of dropper remotes are 1x levers that resemble a shifter paddle that you press with your left thumb. Examples of 1x remote levers include the Wolf Tooth Remote Pro, Fox Transfer 1x Remote, Bike Yoke Triggy Alpha, PNW Loam Lever, and OneUp V3 Lever. Many have textured metal surfaces to provide traction for the thumb, while some now use replaceable rubber pads for grip. Some brands still make remote levers that are designed to be used with 2x drivetrains and/or suspension lockout levers, and drop-bar levers are becoming more common as droppers gain popularity on gravel bikes.
Like any other handlebar-mounted control, it is important to consider ergonomics, lever feel, and actuation force when selecting a dropper post lever. While most lever manufacturers do provide options for Shimano i-Spec or SRAM MMX shifter/brake mount connections, they also offer basic 22.2 and 31.8mm handlebar clamps. Often you can find adaptors for other brake configurations like Magura, Hayes, Hope, etc, so that's something you'll likely want to consider depending on the brakes you use.
Because most levers have multiple attachment points to adjust the horizontal position of the lever, it is usually fairly easy to position the remote in a good spot so that reaching it with your thumb feels natural and intuitive. Some levers have additional adjustments that allow ergonomics to be customized even further.
Weight
Dropper posts will always weigh more than a standard seatpost, but most riders (and increasingly, even competitive cross-country racers) are willing to take a weight penalty for the increased handling benefits of using a dropper post. Of course, all other things being equal, lighter is generally considered better, assuming performance isn't compromised in the name of weight savings. For this test, we weighed the post only, knowing that the weight of the cable housing will vary slightly depending on the length required for your frame, and that will also generally be consistent for your bike regardless of which cable-actuated post you choose. It is also worth noting that longer travel posts weigh more than shorter travel versions of the same post due to the additional materials needed to make them longer.

While a heavier dropper post won't be as noticeable on the trail as a heavy set of tires or wheelset, it will add to the overall weight of your bike and may be a consideration for you. All the posts in this test weighed between 441 grams (Fox Transfer SL) and 655 grams (Rockshox Reverb AXS). For the regular droppers, the OneUp V2 is consistently one of the lightest weight options, weighing in at 505 grams in the 150mm travel length. The Wolf Tooth Resolve is close behind at just 514 grams at 160mm of travel (with 10mm more travel). For those super conscious about weight, like XC racers, there are some "superlight" options on the market nowadays like the Fox Transfer SL and the Bike Yoke Divine SL. These lightweight models do save a fair amount of weight, coming in at 441 grams and 451 grams, respectively, but they are offered in a narrower range of drop lengths.
Installation
If you purchase a new dropper from a bike shop, it is common that they will install it for you. If you purchase a dropper from an online retailer, you can bring it to a local shop and pay to have it installed, or if you like wrenching on your own bike, doing it yourself is relatively straightforward assuming you have cable/housing cutters and reasonable mechanic skills.
The installation process is largely the same regardless of the actuation method:
Run a section of cable housing (or hydraulic line) from the seat tube to the exit port near the head tube. Which way you pull the housing through can depend on your frame and it is always a good idea to use existing housing to pull through new housing whenever possible – this helps guide the new housing through tight curves in the internal routing.
Attach the cable to the actuator at the bottom of the post and run it through the housing. Position the housing in the housing stop at the base of the post
Push the post into the frame while simultaneously pulling the cable/housing (or hydraulic line) out of the exit port near the head tube.
Attach the cable/housing to the lever after mounting it to the handlebars.
For posts with hydraulic actuation, bleed the system. For cable-actuated posts, clamp the cable to the lever, trim the cable and add a cable end, and use the barrel adjuster to achieve proper cable tension.
Maintenance
Similar to moving suspension parts, most dropper post manufacturers recommend cleaning, inspecting, and lubricating your post after every ride and performing their version of a full service between 100-200 hours of riding. For a deep dive on dropper post maintenance, please see our Suspension Tech: How to maintain your dropper seatpost article.
Droppers for Gravel Bikes
As the gravel bike market continues to grow and mature, some models are coming equipped with dropper posts and/or the frames feature internal cable routing to accommodate one. Of course, not everyone needs or wants a dropper on their gravel bike, but those who ride steeper, rougher roads or like to venture onto singletrack trails may find that the benefits outweigh the slight weight penalty.
Most, but not all, gravel bikes have smaller 27.2mm seat tube diameters, and fortunately, many brands now make droppers in this size to meet the growing demand. In general, dropper posts made for gravel bikes have less travel, ranging from around 50mm to 125mm. On the more affordable end of the spectrum, OneUp Components makes the V2 27.2 in 90 and 120mm drop lengths. Crankbrothers offers one of the largest ranges of drop lengths with 60, 80, 100, and 125mm options for their Highline XC Gravel post. Fox makes a 27.2mm version of their lightweight Tranfer SL in both Factory and Performance Elite in both 50mm and 70mm drop lengths. At the high end of the price spectrum, the RockShox Reverb XPLR AXS brings wireless dropper technology to your gravel rig.
Value
Dropper posts are almost always more expensive than rigid posts, but considering the performance benefits they provide, we feel they are worth their weight in gold. Like anything in mountain biking, we have quite a few options and they come at a pretty wide range of price points. Most droppers cost between $200 and $400 with the exception being the wireless RockShox Reverb AXS at $861. While we absolutely love the Reverb AXS, the price is certainly tough to justify when less expensive options perform just as well (but with cables). That said, if you're willing and able to spend that much, it is an incredible dropper post.
For those with less disposable income, the two least expensive models we tested, the OneUp V2 and the PNW Loam, will set you back around or just over $200 (plus a bit more for a remote if you don't already have one). Both posts perform very well and definitely hit the sweet spot of price and performance.
Frequently Asked Questions
Do I need a dropper post?
Mountain bikes can certainly be ridden without a dropper post, and for many years we didn't even have the option. While many riders were slow to adopt this new technology due to weight and reliability concerns with early models, they have since become ubiquitous on most bikes for many reasons. Over the past decade, dropper posts have come down in weight and have become more reliable and durable. Having the ability to raise and lower your seat for the terrain in front of you allows you to always have the appropriate saddle height whether you are riding up or downhill. Being able to adjust saddle height on the fly makes it easier to move about the bike and move the bike beneath you, resulting in greater control. While some posts are quite expensive, there are also many more affordable options that work very well. So, yes, unless you are an elite-level XC racer who is trying to have the lightest bike possible, you should absolutely be riding with a dropper post on your mountain bike.
Is it bad to leave my post compressed?
Leaving your MTB dropper post compressed for an extended period of time is not recommended. When the dropper post is compressed, the internal air pressure is increased, which can put additional stress on the internal components of the dropper post, potentially leading to premature wear and failure.
Additionally, leaving your dropper post compressed can cause the hydraulic fluid to become trapped on one side of the post, which can affect its performance when you next use it. This could lead to damage to the seals and other internal components over time.
To maximize the lifespan and performance of your post, it's best to store it in the fully extended position when not in use. This will help to ensure that the internal components are not subjected to unnecessary stress or pressure and that the hydraulic fluid is distributed evenly throughout the post.
Can I hang my bike by a dropper post or clamp it to a work stand?
It's generally not recommended to hang your bike by the dropper post for extended periods of time, as this can put excessive stress on the internal components of the post and potentially damage it.
While clamping to the dropper post stanchion while working on your bike is not ideal and some manufacturers recommend against it because it is possible to crush the stanchion tube with clamping pressure, we've had no issues doing so consistently for short periods of time with any post. You will, however, want to clamp lightly and wrap the post in a rag or use rubber jaws to avoid scratching the post stanchion. Like with suspension components, scratches on the post stanchion can cause premature wear on seals and introduce dirt and dust into the dropper internals.
Can I drill a hole in my seat tube to fit an internally routed dropper?
Drilling a hole in a frame without internal dropper post cable routing is not recommended and will definitely void any warranties on your frame. It may also compromise the structural integrity of the frame, which could cause serious injury. If you have a frame without internal routing, purchase a post with external cable routing. Externally routed droppers are less common, but there are several models on the market to fit bikes without internal dropper routing. On some hardtail frames, you MAY be able to route cable housing through the seat tube water bottle mounts, but this can be quite tricky.